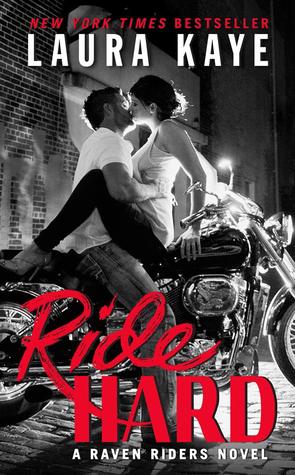 Brotherhood. Club. Family.
They live and ride by their own rules.
These are the Raven Riders . . .
Raven Riders Motorcycle Club President Dare Kenyon rides hard and values loyalty above all else. He'll do anything to protect the brotherhood of bikers—the only family he's got—as well as those who can't defend themselves. So when mistrustful Haven Randall lands on the club's doorstep scared that she's being hunted, Dare takes her in, swears to keep her safe, and pushes to learn the secrets overshadowing her pretty smile.
Haven fled from years of abuse at the hands of her criminal father and is suspicious of any man's promises, including those of the darkly sexy and overwhelmingly intense Ravens' leader. But as the powerful attraction between them flares to life, Dare pushes her boundaries and tempts her to want things she never thought she could.
The past never dies without a fight, but Dare Kenyon's never backed down before . . .**
You guys, I thought I had found an awesome set of guys when I read the Hard Ink series, but I have found even more with the Raven Riders. These guys are just awesome and not what you would expect from a motorcycle club. Still scary but soft too.

Dare is glad to be back at home base and done with helping the crew at Hard Ink. He's glad to be back dealing with his own issues and is itching to get the races started back up. At the celebratory party he notices a girl on the edge of the party, one of his guys is walking toward her and she looks terrified.

Haven has been abused for years and now she's told she's safe but she just can't get it out of her head that she'll never be safe. Men have been around her for years but they've always made her scared. Now she's surrounded by men but they don't really pay her any mind. She stays in her room and really only comes out when she can't sleep. Then she bakes wonderful confections, cookies and cinnamon rolls. Dare is different, he makes her feel things she hasn't felt since her first boyfriend. The same boyfriend her dad scared off.

Dare was so sweet with Haven, he took care of her and kept her safe. He made her feel and in turn she made him feel more than he's let himself feel in years. Sure he's older than her but sometimes when feelings are there it doesn't matter what age people are. The only problem is he's going to have to let her go so she can be safe. She has to keep going to get away from her father and leaving Dare is the hardest thing she's ever had to do. I can not wait to see where this series goes and while I'm glad to get in on the first book I'm sad I don't get to binge read these guys like I did with Hard Ink.

**Goodreads summary