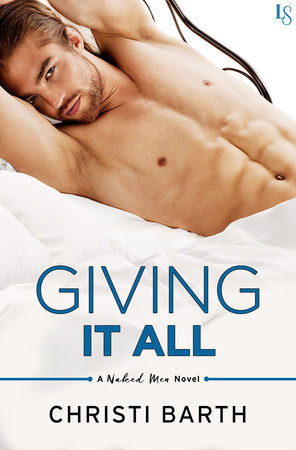 This review could contain spoilers for a previous book
Logan Marsh never stays in one place for long. Through his family's foundation, Logan spends his days traveling to the world's most dangerous places to deliver disaster relief, which really puts a damper on his sex life—until he reconnects with his high-school crush. Stranded together in the Caribbean, they enjoy a steamy fling that awakens feelings Logan has ignored for too long. But family drama calls him away from her sweet embrace . . . or so he thinks.
Brooke Gallagher loved being a home economics teacher and cheerleading coach. Then an unexpected tragedy forced her to take some time off. Now she's back in D.C. and despite the intensity of her tropical encounter with Logan, she's shocked to bump into him again. Logan's dealing with his own issues (including a newly discovered half-sister) and he's itching to get back on the road. More than anything, Brooke wants to be there for him. But first, he has to decide if love is enough to keep him in one place.**
This review could contain spoilers for a previous book
Thanks to the author for the book in exchange for a honest review.
I read Knox's story and was so excited when the author contacted me for Logan's book. He was a total ass in Knox's book, I mean who can blame him. He didn't know he had a sister and didn't believe that it was possible that his father had been lying to him his whole life.
Logan lives his life helping others. He has a job through his family's foundation and he loves it. He has a home base in D.C. but for the most part he lives his life out of a duffle bag. He helps in disasters, what ever's needed; ditches dug, houses built or food. When the bomb is dropped that he has a sister and she's dating Knox, the notorious womanizer, he knows he has to get back and figure things out. When he gets to the fourth or fifth airport and is grounded because of a hurricane he isn't expecting to run into a blast from the past.
Brooke needs this getaway. Her life is in limbo right now. She wasn't expecting to see Logan, she wasn't expecting to have a fling with him. Life is funny, she had a huge crush on him when she was younger and now he's in front of her. Spending the time she has with him is magical. He helps her more than she ever thought the vacation could. Then he's off to D.C. and she's left there. She sees how kind hearted he is and it's hard to not feel more for him than lust. He doesn't stay in one place though, he doesn't commit. Even if she wants more.
I walked into this expecting to hate Logan, I mean seriously he was an ass in Knox's story. I ended up loving him. He's kind and pushes himself to be a better person. Brooke is someone he wants to take care of in more than one way. He's always been attracted to her and now he gets to act on it. There are so many layers to this book, reasons the characters react and act the way they do. Loved Brooke and seeing all of the other guys from the previous book. I can't wait to see more from this set of guys. The author has tons of talent and you should check out her writing. Leave a review to show you care!!
**Goodreads summary