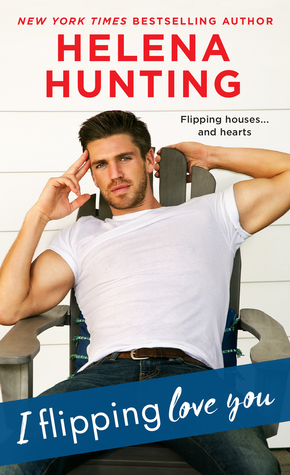 I Flipping Love You by Helena Hunting
SHE'S GOT CURB APPEAL
Rian Sutter grew up with the finer things in life. Spending summers in The Hamptons was a normal occurrence for her until her parents lost everything years ago. Now Rian and her sister are getting their life, and finances, back on track through real estate. Not only do they buy and sell houses to the rich and famous, but they finally have the capital to flip their very own beachfront property. But when she inadvertently catches the attention of a sexy stranger who snaps up every house from under her, all bets are off…
HE'S A FIXER UPPER
Pierce Whitfield doesn't normally demo kitchens, install drywall, or tear apart a beautiful woman's dreams. He's just a down-on-his-luck lawyer who needed a break from the city and agreed to help his brother work on a few homes in the Hamptons. When he first meets Rian, the attraction is undeniable. But when they start competing for the same pieces of prime real estate, the early sparks turn into full-blown fireworks. Can these passionate rivals turn up the heat on their budding romance — without burning down the house?
I FLIPPING LOVE YOU, set in the Shacking Up world, follows two people, both working in real estate, who find themselves vying for the same properties in the Hamptons, leading to a sometimes-not-so-friendly competition.**
I received this book from NetGalley in exchange for an honest review.
Rian is just trying to live her best life. She works with her sister in real estate and dabbles with flipping houses. One day while grocery shopping a man stops her and tells her she owes him for hitting his car and fleeing the scene. Rian did not hit his car, her twin sister did. This man, Pierce is infuriating. He makes no qualms that he finds her attractive. She makes sure he knows she thinks he's an asshole, even if she thinks he's a good looking one.
Pierce doesn't need the money to fix his car, he's well off but its the principle of the thing. Also when he meets Rian he likes her, and he wants her. Having never seen her around the Hamptons before, its kismet that he keeps seeing her now. How can he convince her that he wants to actually get to know her and more than that?
They both feel the attraction. Rian though doesn't want to give into it, she doesn't date good looking, she's looking for more than attraction. Soon though, their relationship becomes more than just a fling, more than just casual sex. They start catching feelings, and then Rian has to come clean about her past.
I loved their banter, Rian isn't a shrinking violet that lets people walk all over her. A strong woman, she did blame herself for things beyond her control. Once she shared all of her secrets and knew Pierce's she didn't feel like she was less than, she didn't believe that she didn't deserve the love he was offering her. This book was fantastic! I did not read any of the other books in this series, but I didn't feel like I missed anything at all. I do hope we get to see Lawson's story, even if he is a jackass.
**Goodreads summary