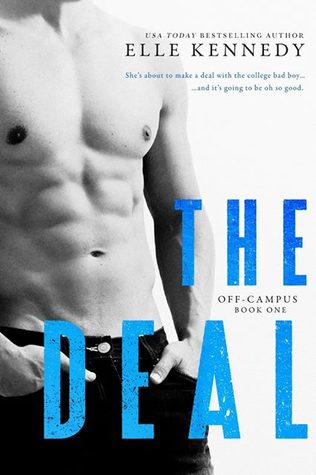 She's about to make a deal with the college bad boy...
Hannah Wells has finally found someone who turns her on. But while she might be confident in every other area of her life, she's carting around a full set of baggage when it comes to sex and seduction. If she wants to get her crush's attention, she'll have to step out of her comfort zone and make him take notice... even if it means tutoring the annoying, childish, cocky captain of the hockey team in exchange for a pretend date.
.
..and it's going to be oh so good.
All Garrett Graham has ever wanted is to play professional hockey after graduation, but his plummeting GPA is threatening everything he's worked so hard for. If helping a sarcastic brunette make another guy jealous will help him secure his position on the team, he's all for it. But when one unexpected kiss leads to the wildest sex of both their lives, it doesn't take long for Garrett to realize that pretend isn't going to cut it. Now he just has to convince Hannah that the man she wants looks a lot like him.**
Ok so going in I knew that I'd like Garrett at least a little bit. Once again Corie strikes again with a great rec.
Hannah has baggage, big huge luggage in fact. One day when she gets a test back that she passed and mostly everyone failed she catches the attention of the captain of the hockey team and he is desperate for her to help him get a better grade on the make-up test. He needs her but she really doesn't need him. She's got too much going on to help Garrett Graham, until he makes a deal that appeals to her on a female level. If she helps him pass JUST the make-up test he'll help her land the guy shes crushin' on, Justin Kohl; football star. The more times she spends with Garrett though the more she thinks maybe he could be the one to help fix her.
Garrett HAS to get a better grade on this make-up test. His eligibility to play hockey is on the line, and that is all he wants to do in life; make it to the NHL. Hannah (who he thinks is Molly or something with a M) just could give two shits about who he is. She lives in her music world and doesn't care if he needs her to tutor him in this Ethics class. He badgers her, pleads with her and even begs her to help him and she shuts him down. Then he finds her trigger, Kohl. He personally doesn't think the guy is that great but if he can get her to help him he'll make sure Kohl wants Hannah.
I'm not gonna lie there is something going on with Hannah that keeps her from doing certain things. She's cautious and doesn't let people in easily. Somehow, Garrett sneaks past all of that and becomes someone that she trusts explicitly. They begin to see that maybe the things they thought they didn't want were actually the things they needed most. I really loved that even though Hannah sees herself one way she's a very strong woman. She doesn't take shit from anyone. Garrett is a manwhore at the beginning but not as bad as some of the guys in the house. I didn't love seeing Garrett's whoring but I understood that it was the way he operated.
In the end they were best together. This was a fast read and very enjoyable. The other guys that Garrett lives with provided some laughs and I look forward to reading their stories. Check this one out and leave the author a review.