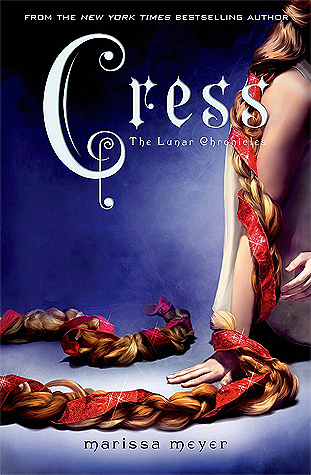 Even in the future. there are damsels in distress...
In the third installment of the Lunar chronicles, Cress, having risked everything to warn Cinder of Queen Levana's evil plan, has a slight problem. She's been imprisoned on a satellite since childhood and has only ever had her netscreens as company. All that screen time has made Cress a great hacker. Unfortunately, she's just received orders from Levana to track down Cinder and her handsome accomplice.
When a daring rescue of Cress involving Cinder, Captain Thorne, Scarlet, and Wolf goes awry, the group is separated. Cress finally has her freedom, but it comes as a high price. Meanwhile, Levana will let nothing prevent her marriage to emperor Kai. Cress, Scarlet and Cinder may not have signed up to save the world, but they may be the only hope the world has.**
Cress risked everything to warn Cinder and now Cinder has said shes going to rescue her. She's lived on the satellite for so long that she has ideas of what the world is like. What romance is like and what people are like. When she's finally with other people, after the debacle that is her rescue, she realizes all too soon that life isn't as fanciful as she imagined it to be.
While she may be dumbfounded by the world she's in now she can help in some ways, shes quite good at computers and the like. She also finds out some things about herself that she wasn't expecting. The love she had for Thorne has a shiny light put on it and it shows some holes.
Cress is a close second favorite girls in the series. We also get to meet Winter in this one and she is straight up odd. Now we have all the cast of characters and we have to watch them work their way through this fight. Its not an easy one at all and its hard to watch. The author paints such a pretty picture that you can really see the story as if its a movie. This series would make an AMAZING movie! Cress and Thorne are meant to be and I ship them. In fact all of the characters that have paired off I like the pairings and I want them to be together. I can't wait to see how this series ends. I'm sure its not going to be an easy one!! Leave the author a review to show your love!
**Goodreads summary