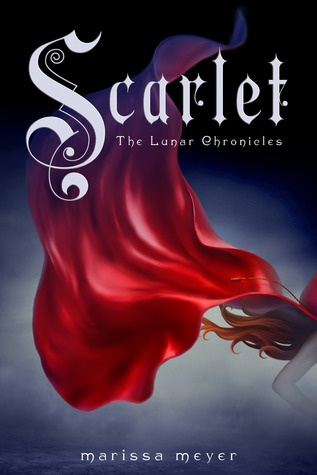 Cinder, the cyborg mechanic, returns in the second thrilling installment of the bestselling Lunar Chronicles. She's trying to break out of prison—even though if she succeeds, she'll be the Commonwealth's most wanted fugitive.
Halfway around the world, Scarlet Benoit's grandmother is missing. It turns out there are many things Scarlet doesn't know about her grandmother or the grave danger she has lived in her whole life. When Scarlet encounters Wolf, a street fighter who may have information as to her grandmother's whereabouts, she is loath to trust this stranger, but is inexplicably drawn to him, and he to her. As Scarlet and Wolf unravel one mystery, they encounter another when they meet Cinder. Now, all of them must stay one step ahead of the vicious Lunar Queen Levana, who will do anything for the handsome Prince Kai to become her husband, her king, her prisoner.**
I listened to part of this one with J on our way home from Chicago. I read the rest when I got home. This one wasn't a favorite. I loved Cinder but I wasn't super impressed with Scarlet.
Scarlet's grandmother has been missing for two weeks. She has reported it to the authorities in her town but they think she's ran away. She's not exactly known for being sane. Scarlet knows somethings wrong though. While delivering their vegetables to one of their customers she meets Wolf. He's odd but there's something about him. All Scarlet cares about right now is finding her grandmother. She KNOWS she didn't run away despite all of the clues pointing to that.
I did love that we still got to see what Cinder was going through. Scarlet did grow on me but she's not my favorite. IKO is lol!! J said the reason I didn't like Scarlet is because she's like me, hard headed and strong willed. I suppose that can be true. We get to see a lot of progress in the fight against Levana and then some back slides. I am so enjoying this series and I'll be sad when its over. It is complete so y'all should check it out and let me know what you think! If you've read it who's your favorite or do you have one?
**Goodreads summary