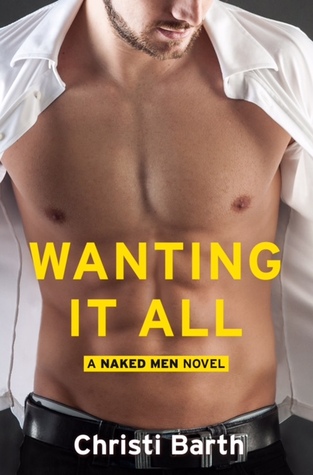 After narrowly surviving a bus crash in high school with his best friends, science geek Knox Davis resolved to become so successful that he could have anything and everything he wants. Now he's über-wealthy, a huge business success, and a notorious ladies' man. Knox refuses to limit himself to one woman, but when his latest conquest—a blond beauty from the Alaskan bush—challenges his superficial ways, Knox begins to see the world through her eyes, and finds he likes what he sees.
A nurturer at heart, Madison Abbott wants to put down roots. She left Alaska to meet Mr. Right—and to track down Logan, the half-brother she's never met. Instead, she finds Knox. Although the sexy-as-sin bachelor may not seem like marriage material, Madison's starting to think that Knox is The One. But Knox refuses to settle down, especially once he learns that Madison is his best friend's little sister. Now it's up to her to convince Knox that she's everything he really wants. **
Thanks to the author for the book in exchange for a honest review.
Knox doesn't do relationships. He likes being free to sample all the world has to offer. He's worked hard to get where he is and he doesn't want to be tied down. He meets Madison and thinks he can have some fun with her. Shes new to D.C. and says she's down for a good time. She's different than any girl he's met. She's sexy and confident, she's not super clingy but knows that she wants a relationship, something that makes Knox's skin crawl. No matter though he can't seem to kick her to the curb.
Madison is on a mission, she left Alaska to work in her dream job, find the half brother she never knew existed and to meet a man and settle down. On her first day there she meets Knox, he's brainy and handsome. Two things that she finds attractive and he's feeling all she's putting down. She's got the dream job and a potential guy, albeit one that is scared of commitment but the brother isn't answering her email. Everything is going great, she's not taking no for an answer about anything, but in the end she's a girl and girls can think things no one else will. What if Knox doesn't love her? What if her brother hates her? In the end all the confidence in the world can't hold under pressure.
I loved the confidence Madison exudes. She lives her life to the fullest and doesn't expect anything handed to her. She makes a plan and sets out to make it go her way. She doesn't think of how plans don't always work out. Knox is stubborn and while he's generous with his money and his time he only lets a few people see his heart. He doesn't know why Madison is under his skin but he's slowly getting to the point where he doesn't mind it so much. All the secondary characters are great in this book. The ACS's , Chloe, Summer and Annabeth make the story rich and colorful. If you like hot nerdy guys this is a good choice to read, Knox is insanely smart and has a rocking body to boot. Don't forget to leave the author love in the form of a review. It really is the only way to say thank you!!
**Goodreads summary