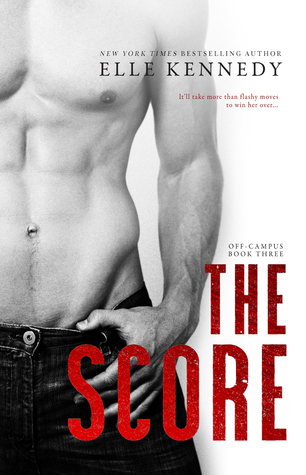 He knows how to score, on and off the ice
Allie Hayes is in crisis mode. With graduation looming, she still doesn't have the first clue about what she's going to do after college. To make matters worse, she's nursing a broken heart thanks to the end of her longtime relationship. Wild rebound sex is definitely not the solution to her problems, but gorgeous hockey star Dean Di-Laurentis is impossible to resist. Just once, though, because even if her future is uncertain, it sure as heck won't include the king of one-night stands.
It'll take more than flashy moves to win her over
Dean always gets what he wants. Girls, grades, girls, recognition, girls…he's a ladies man, all right, and he's yet to meet a woman who's immune to his charms. Until Allie. For one night, the feisty blonde rocked his entire world—and now she wants to be
friends
? Nope. It's not over until he says it's over. Dean is in full-on pursuit, but when life-rocking changes strike, he starts to wonder if maybe it's time to stop focusing on scoring…and shoot for love.**
I don't even know where to start with how much I've loved this series and when I saw that Dean was getting his own book I was super happy. I liked Dean from the other books but I wasn't sure who the girl in his book and I'm glad for it to be Allie.
Dean is who he is and he doesn't apologize for it. He likes sex and he's good at it. It makes him feel good. He's smart even though he lets people think hes stupid. He's living it up while he can because after he graduates he's off to law school like his parents want. He plays hockey and its fun and he's good at it too but its not a career. When Allie comes to stay to escape an ex he is put out, he had two girls there ready to rock his world and now he has to babysit her. Something about her though sucks him in, it could be that she says no to him and doesn't fall at his feet. It could also be that she's his match, his one.
Allie broke up with her boyfriend for the last time, they've always been that couple that break up and get back together but this time its final. Sean wanted her to leave her plans behind to become a housewife; not that she thinks being a housewife is a bad thing its just not her dream. She's an actress and that's what she wants to do with her life. Going to Dean's house (also Garrett's her BFF Hannah's boyfriends) she just wants a night where Sean won't try to see her, he keeps texting so coming to her dorm isn't out of the question. She knows Dean and knows what a player he is. She also knows that she doesn't do casual sex, even if Dean is sex on a stick. She holds her ground and says no but then she wakes up in his bed after a night of drinking. It was the best sex she's ever had but it can't happen again. Can it?
Dean has always been a goof, in all the books he's the one for having fun and being loose. In this book we see that he's growing up some, he's not as childish as everyone thinks. He's a good guy that takes care of the people close to him. Allie is a drama major so she is in her own head a lot. I loved that she saw him for who he really is and not just who he pretends to be. Together they're great. I laughed during this book as well as cried. There are some twists and turns. I love this series and I hope there are MORE! I'd love Tucks story, *hint hint* to the author. Let me know what y'all think and leave love for the author in the form of a review!
**Goodreads summary